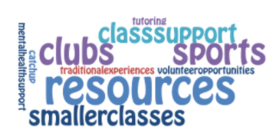 During the 2020-21 School year Student Advisory Committees were able to meet virtually three times to discuss questions presented by the board who were seeking input from students on a variety of topics.   Mental Health was a topic that was on everyone's mind during the Pandemic, and students were able to provide information about how they were strengthening their mental health, along with the successes they were having with their learning.  Trustees also wanted to find out what challenges students were facing and anything they felt their schools were lacking by way of resources.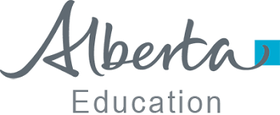 The second day focused on modes of learning for students finding out their preferences and reasons for those preferences.  Also important was finding out if students had the tech they needed to be successful.  Their final request on Day 2 was around curriculum and what  the students hoped the new curriculum would contain. Indigenous Education, financial literacy, Mental Health literacy and career options were just a few topics they were hoping would be a part of the new curriculum.
Students ended the year discussing what they were most looking forward to when they moved back to the school buildings in the fall.  They talked about anything they felt may be needed and how education had improved or declined for them during the pandemic.  Finally, they were asked if there was anything they missed that they would like to see returned to the school for the fall and expressed their feelings of belonging to the school community. It was interesting to note that most of what they mentioned on Day 1 related to Mental Health needs was reflected in their wishes for the return to school.
2021-2022 Student Advisory Committee Members
  SCHOOL
STUDENT REP
STUDENT REP
 STUDENT REP
ELEMENTARY
 
 
 
 Beacon Hill
 Noah McNally (Gr. 5)
 Cooper Garbe (Gr. 6)
 
 Christina Gordon
Carrigan Farrel (Gr. 5)
Ainsley Wood  (Gr.6)
 
 Christian School       
Hannah Friend (Gr. 5)   
Simi Oladipo (Gr. 6)
 
 Dave McNeilly
Emilia Jenkins  (Gr. 5)
Mantaj Sekhon (Gr. 5)
 
 Dr. Clark
Alexis Lagatic (Gr. 5)
Rayan Masrur (Gr. 6)
 
 École Dickinsfield
Sophie Pytak  (Gr. 6)
Levi Coyston-Lagassé (Gr. 5)
 
 Greely Road
Layan Daqqa Gr. 6)
 
 
 Islamic School
Mariam Aidi (Gr. 5)
Rayan Ahmad (Gr.6)
 
 Thickwood
Deomart Castillo (Gr.6) 
James McIver  (Gr. 6)
 
 Timberlea
Josh Martin (Gr.6)
Farida Attia (Gr.5)
 
 Walter & Gladys
Rian Stokes (Gr. 6)
Ronak Bajwa(Gr. 6)
 
 Westview
 Kolton MacEachen (Gr. 6)
Zoey Pisak  (Gr. 5)
 
SECONDARY
 
 
 
Christian School
Naomi Huygen (Gr. 8)
Abigail Norman (Gr. 9)
 
Composite 
Hunter King (Gr. 7)
Konstaninos Kyriacoullis
(Gr. 7)
Aeiden McNally
(Gr. 7)
École McTavish
Kayden Cameron (Gr. 9)
Noel Watson (Gr. 11)
Vasundhara Joshi (Gr. 7)
Frank Spragins
Isaac Pelletier (Gr. 12)
Harnoor Gill (Gr. 11)
 
Islamic School
Azka Qamar (Gr. 8)
Maya Jommaa (Gr. 8)
Musab She (Gr. 8)
Westwood
Ryan Perera (Gr. 10)
Briana Duran (Gr. 10)