Wood Buffalo You Can Ride 2 Program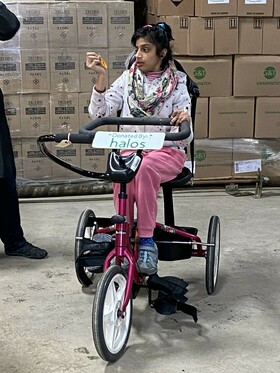 In the Spring of 2018 we were able to bring this program to Fort McMurray through Wood Buffalo You Can Ride 2 (WBUCR2). The original You Can Ride 2 program began in Edmonton in 2012 and Fort McMurray families and school staff have wanted to bring this program to our community for our families ever since.
Leo was able to bike with his friends and brothers more independently by having access to an adapted bike through Wood buffalo you can ride 2. We are thankful he has been able to borrow a bike the last two years. His confidence and skills have grown by having this opportunity. We are excited to get another new adapted bike this spring. 

Stephanie Harmer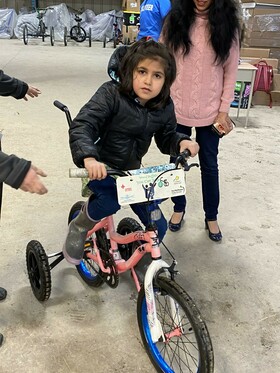 Bikes provided each summer:
2022 - 125 bikes
2021 - 115 bikes
2020 – 100 bikes
2019 – 80 bikes
2018 – 45 bikes
Adapted bikes are not easily accessible for families for a variety of reasons including cost, limited access to adaptive equipment to adjust regular bikes, and lack of knowledgeable specialized bike mechanics as well as trained physical and occupational therapists. Schools also have a limited number of bikes available for children and limited practice time available during the day. Most children will need several bikes throughout their lifetime due to growth and changes in physical status. The benefit of this program is that as the child grows and their physical needs change the bike can change and grow with them, without extra expense to the family.
How our adapted bike program works:
The WBUCR2 program operates as a lending library allowing children to borrow bikes for the summer months as well as during the school year. Children are assessed by a trained Physical Therapist or Occupational Therapist to ensure they have a bike that suits their individual needs. Families pay a small rental fee ($75.00) and borrow the bike from May – October. The bikes are then re-distributed amongst the schools and used for in-school bike programming.
Benefits from riding a bike:
Every child should experience the joy that is riding a bike! With riding a bike comes so many other benefits, increased strength and stability, cardiovascular fitness and endurance, increased communication, road safety, independence, and social interaction with peers and family.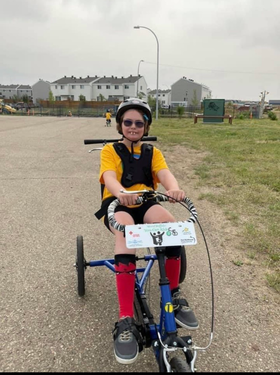 Thanks to the Wood Buffalo You Can Ride 2 Program, my daughter is able to ride her bike on the trails just like her friends! The huge smile on her face when riding her bike is a true testimonial to the joy she feels to be riding just like the other kids. She also gets the pleasure of using the bike inside her school during the winter months which provides much needed physical therapy, increases her mobility and coordination. Without the Wood Buffalo You Can Ride 2 Program none of this would be possible as these specialty bikes cost thousands of dollars. Thank you for this program and all the freedom and joy it brings to our daughter!
Christine Godby
Thank you to our sponsors!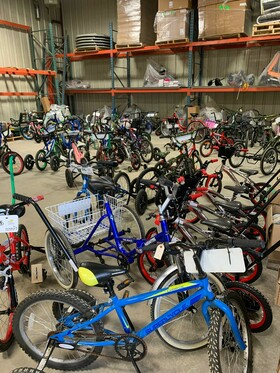 Canadian Red Cross
Jumpstart
Children's Ability Fund
RMWB
Canadian Tire
Stratosphere Sports
Kinettes Club of Fort McMurray
HALO's
Wood Buffalo Safe Communities
Sport Chek
Fort McMurray Catholic School Division
Fort McMurray Public School Division
Habitual Sports
Northern Sports Locker